Paint and Color Trends 2021
Paint and colors shape how we view the world around us, and how we view our homes in particular. After an unprecedented year that found many people spending more time at home than ever before, 2021 is poised to bring even more changes and trends to home decor than in recent years.
Each year, Fixr reaches out to the top interior design experts and industry influencers to get their take on what the hottest upcoming trends will be. With 2021 bringing some much anticipated changes, we've once again brought you the latest in paint and color trends for the home. 68 top influencers and designers in the home design field have weighed in on what they believe to be the hottest color trends.
They were given a mixture of multiple choice and open questions to answer covering topics on color for every area of the home. From kitchens to home offices and furniture to color's impact on resale value, we bring you the latest on what home designers are predicting will be the biggest paint and color hits for the upcoming year.
We'd like to thank the experts who gave their time to weigh in on these questions. Whether you're a homeowner, an interior designer, or someone who works in a related field, we hope you'll find these answers to be illuminating and inspiring for the year ahead.
Key Findings:
81% of experts agree that quarantining and staying at home has strongly affected homeowners' color choices
Earthy and warmer neutral tones are replacing gray as the most popular shade, say 54% of design experts
Aegean Teal and Urbane Bronze will be the most used "Colors of the Year" by homeowners
65% say textured walls and wallpapers will lead the way for accent walls
White easily keeps the top spot for popular exterior colors to sell a house in 2021
Blue is the preferred option for personal spaces and soothing vibes
New Influences, New Directions
Over the last year, many people's situations and home lives changed. For some, this was temporary, while for others these changes could be permanent. This includes working from home, having children studying and learning at home, and simply having the time and inclination to finally tackle many home projects.
All of this can also be seen in the colors and color choices that people are now making for their homes.
81% of Experts Agree that Quarantining Has Strongly Affected Homeowners' Color Choices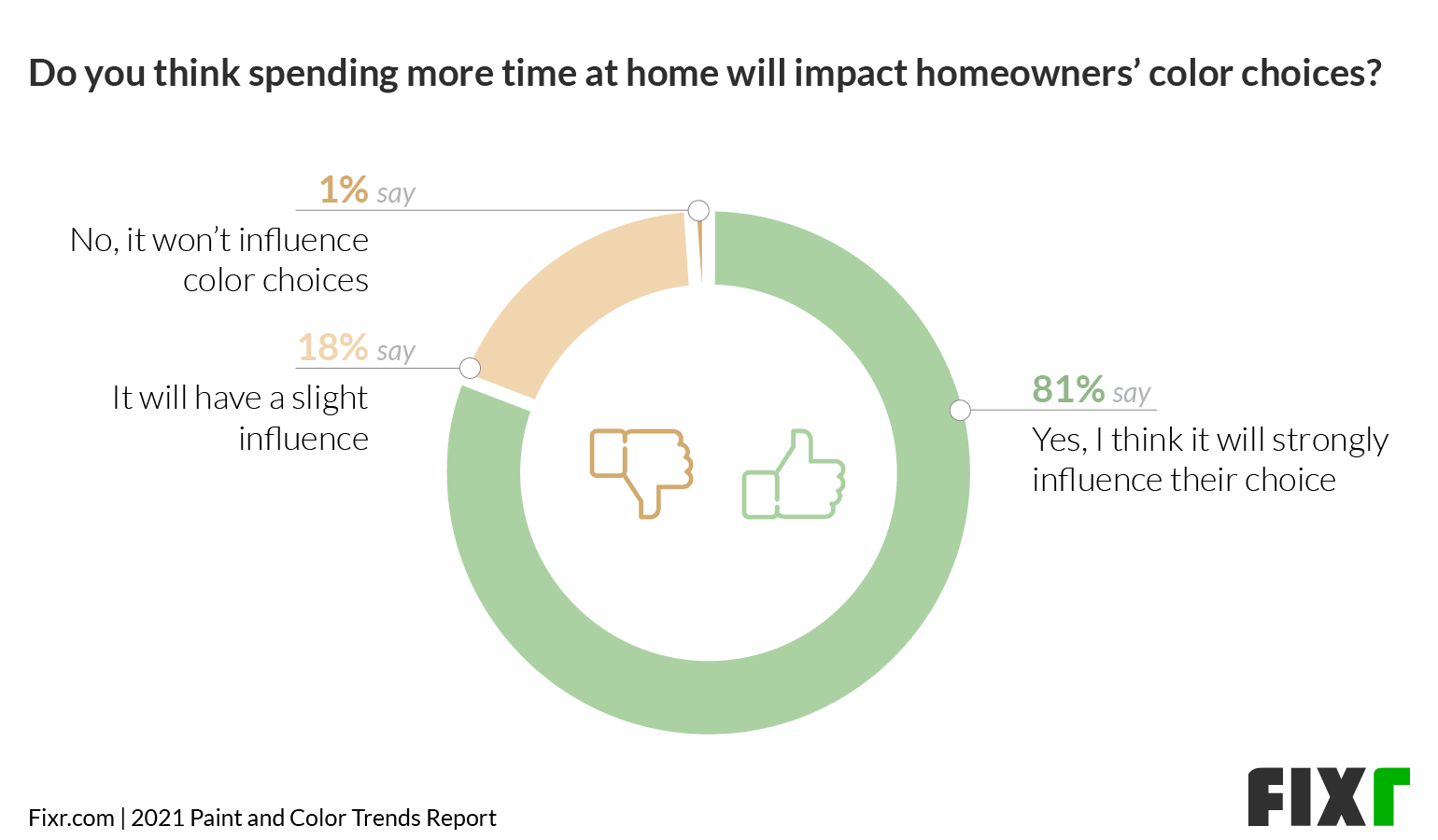 Experts were asked whether they felt that the amount of time people were now spending at home would affect or influence their choice of colors. An overwhelming 81% of experts agreed that it would strongly affect it. In many ways this could be expected. The extra time spent at home has had many people reexamining their environments, with more than 60% of all homeowners having undertaken some type of home project in the last year. With this new involvement in home projects, many people may want to get a fresh look or color for their homes as well.
Earthy and Warmer Neutral Tones are Replacing Gray, Say 54% of Design Experts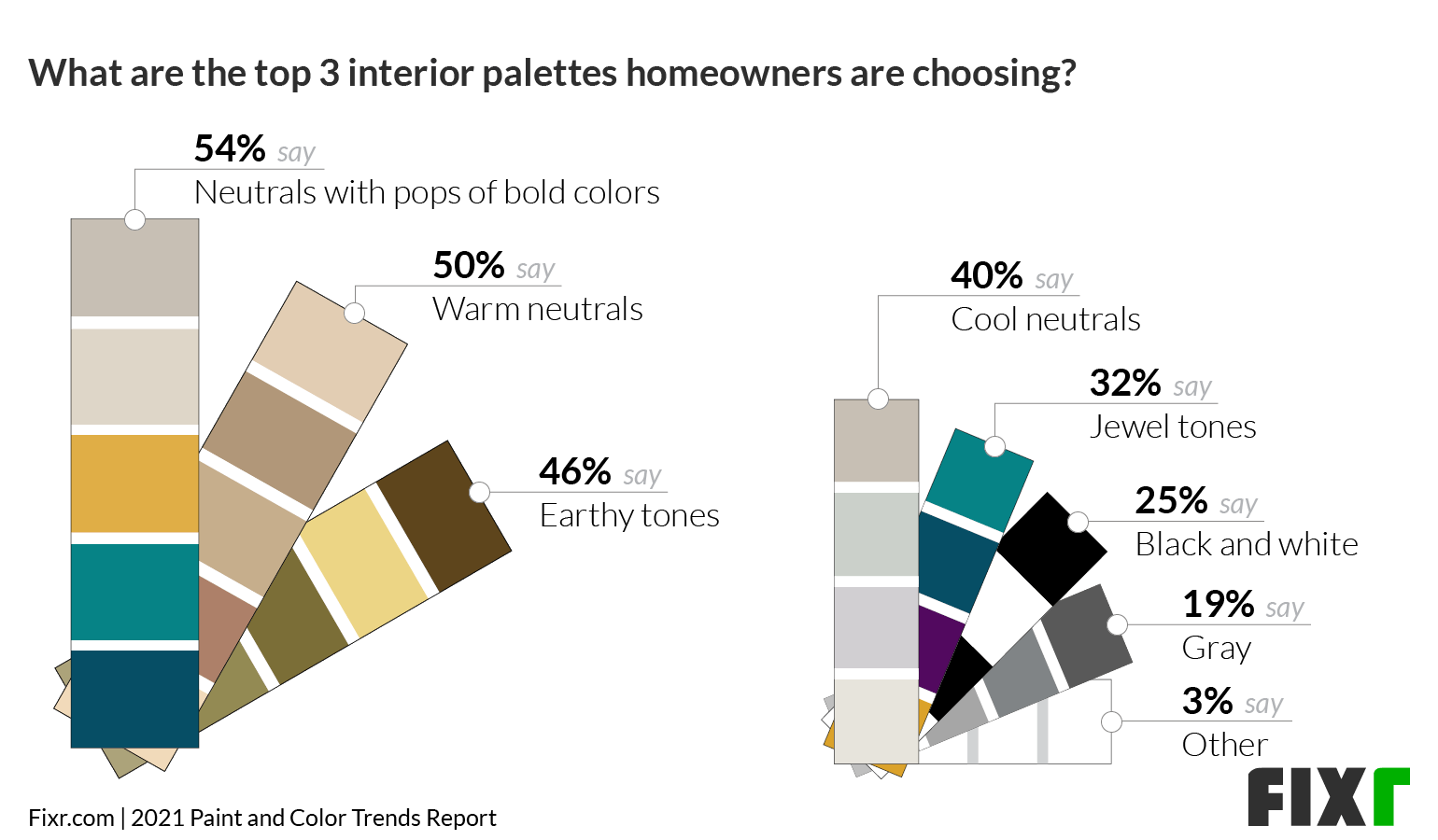 For the last several years, gray in all its shades has been the top color for interior and exterior design. As of late, most interior designers have been making the case for a more earth-toned palette instead. When asked about the top three palettes homeowners are choosing today to paint their interiors, earth tones came in a solid 3rd place (46%), behind warm neutrals (50%) and neutrals with pops of bold color (54%). Neutrals in all their shades go hand in hand with earth tones, with warm neutrals complementing them particularly well. It seems that many homeowners are ready for some more color after several years of gray.
60% of Designers Report That Homeowners Prefer Light-Colored Furniture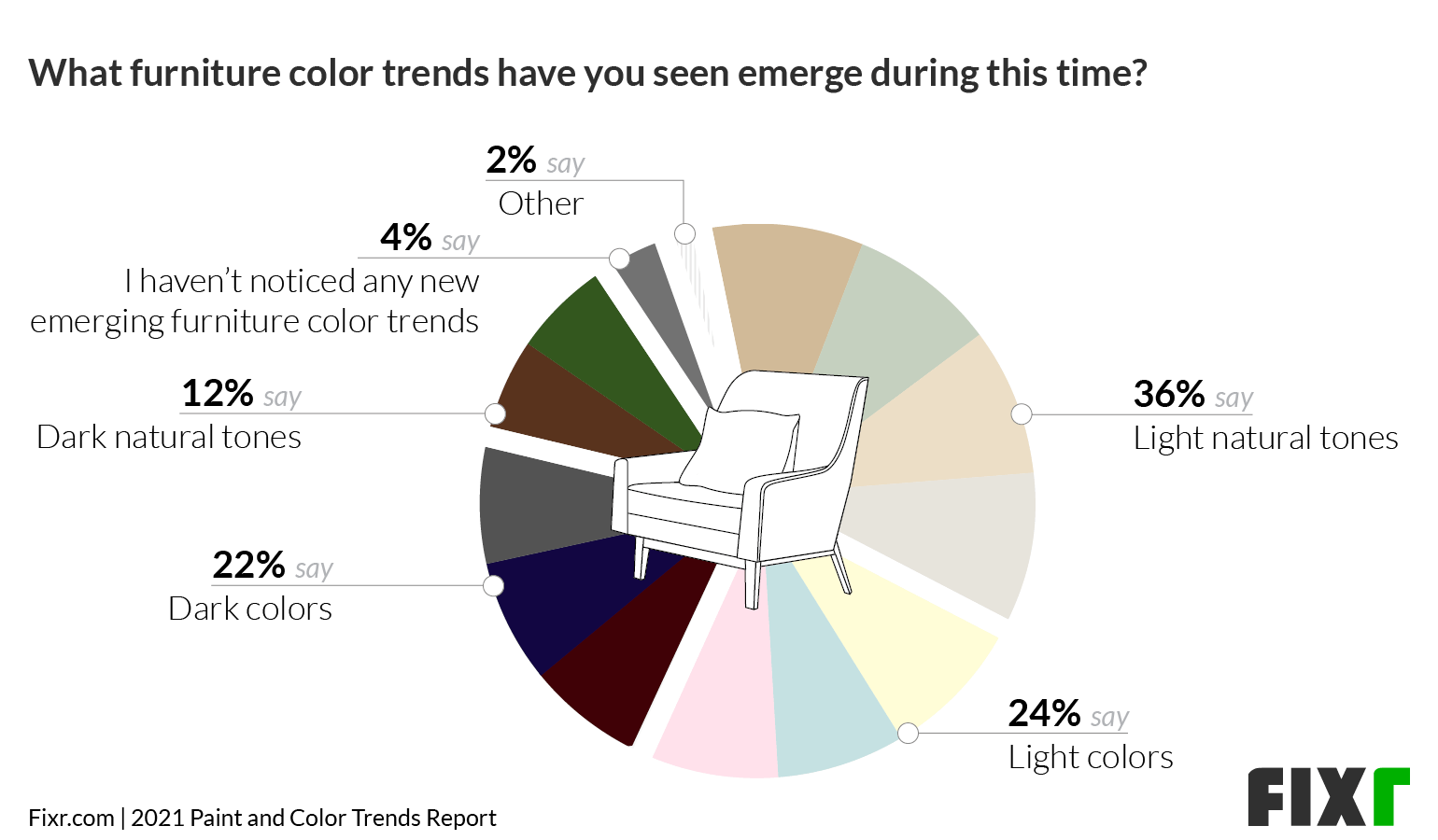 When it comes to furniture choices, it seems that more people are gravitating toward light colors. Light natural tones received 36% of the vote, while light colors in general got another 24%. This certainly lines up with the paint color trends; light and natural tones on the furniture would coordinate well with the natural and neutral colors for the walls, also making the ideal backdrops for some fun, bold colors added by accent pillows or art.
Almost Half of Designers Note That Homeowners are Incorporating Plant-Inspired Colors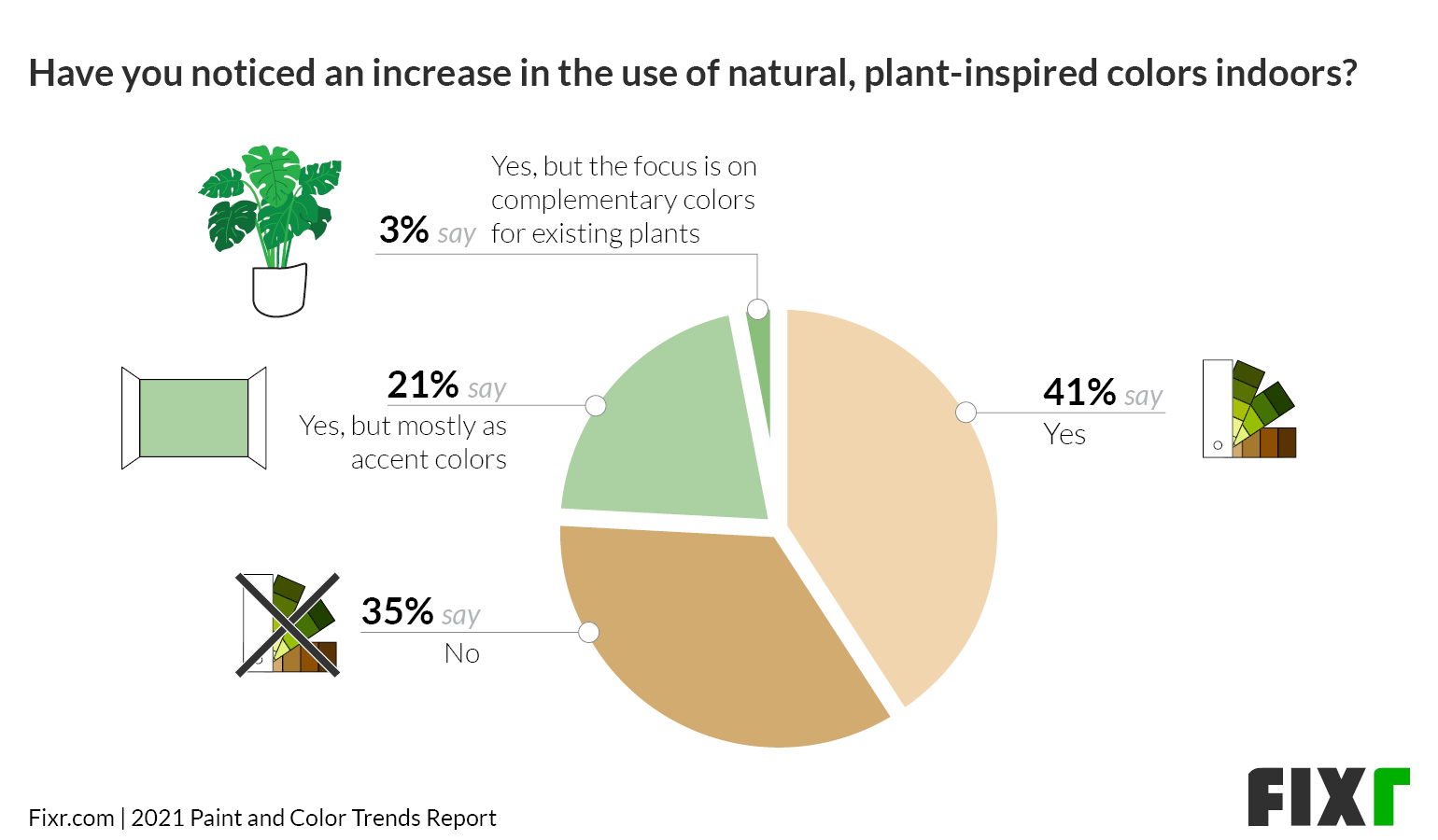 Many people began purchasing plants for their homes – with roughly 12% of them being first time plant buyers. So it stands to reason that people may want to incorporate their newfound love of plants and greenery into their decor. 41% of experts found that their clients are indeed beginning to use a more natural, plant-inspired color palette. A further 21% also say that they have seen some sporadic use of plant-inspired colors as accents in the home as well.
This also ties in with the new trends toward natural and earth tones in the home. These palettes occur with plant life in nature, so it stands that they would complement each other indoors as well.
Aegean Teal and Urbane Bronze Will Be The Most Used "Color of The Year" by Homeowners, Experts Agreed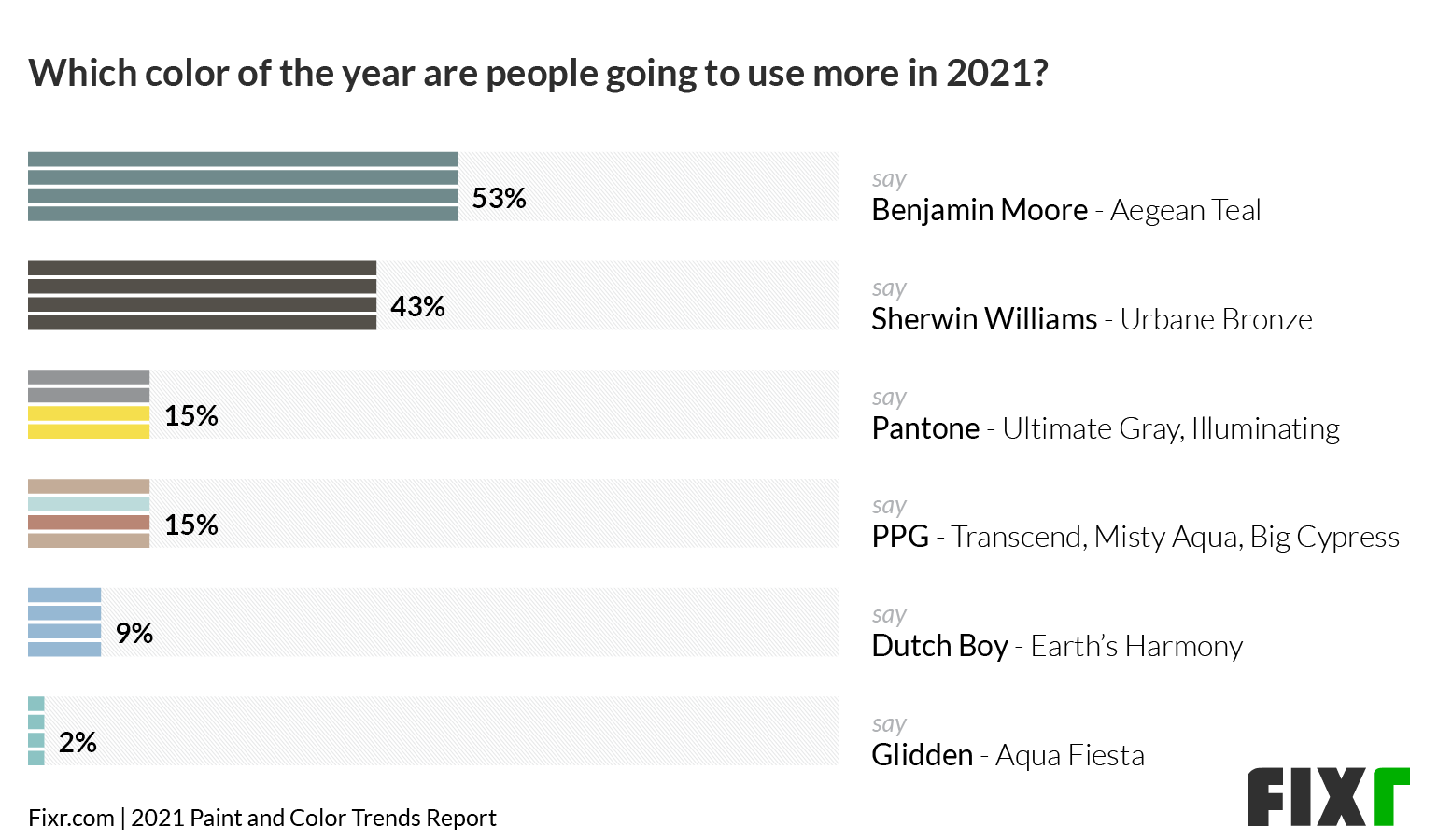 Each year, many paint companies and manufacturers release what they call their color or colors of the year. These colors sometimes speak to current trends, other times they make a statement about the year itself. Of the 6 selected companies that have released a color or palette for 2021, 53% of experts think that most people will choose Benjamin Moore's Aegean Teal for their homes. A further 43% feel that Sherwin Williams' Urbane Bronze will be used. These colors both tie in well with other trends. Urbane Bronze is a sophisticated warm, natural and neutral color, while Aegean Teal is the kind of bright but soothing tone that would work well as an accent against a more neutral background.
Ways to Introduce Colors
Color can be used in many ways and in many places in and around the home. While many people's first consideration may be walls, this is far from the only place that a color or colors could be used. We asked our experts to weigh in on the many ways that color can be introduced into the home.
49% of Designers Agree Textiles are the Most Popular Way to Incorporate New Colors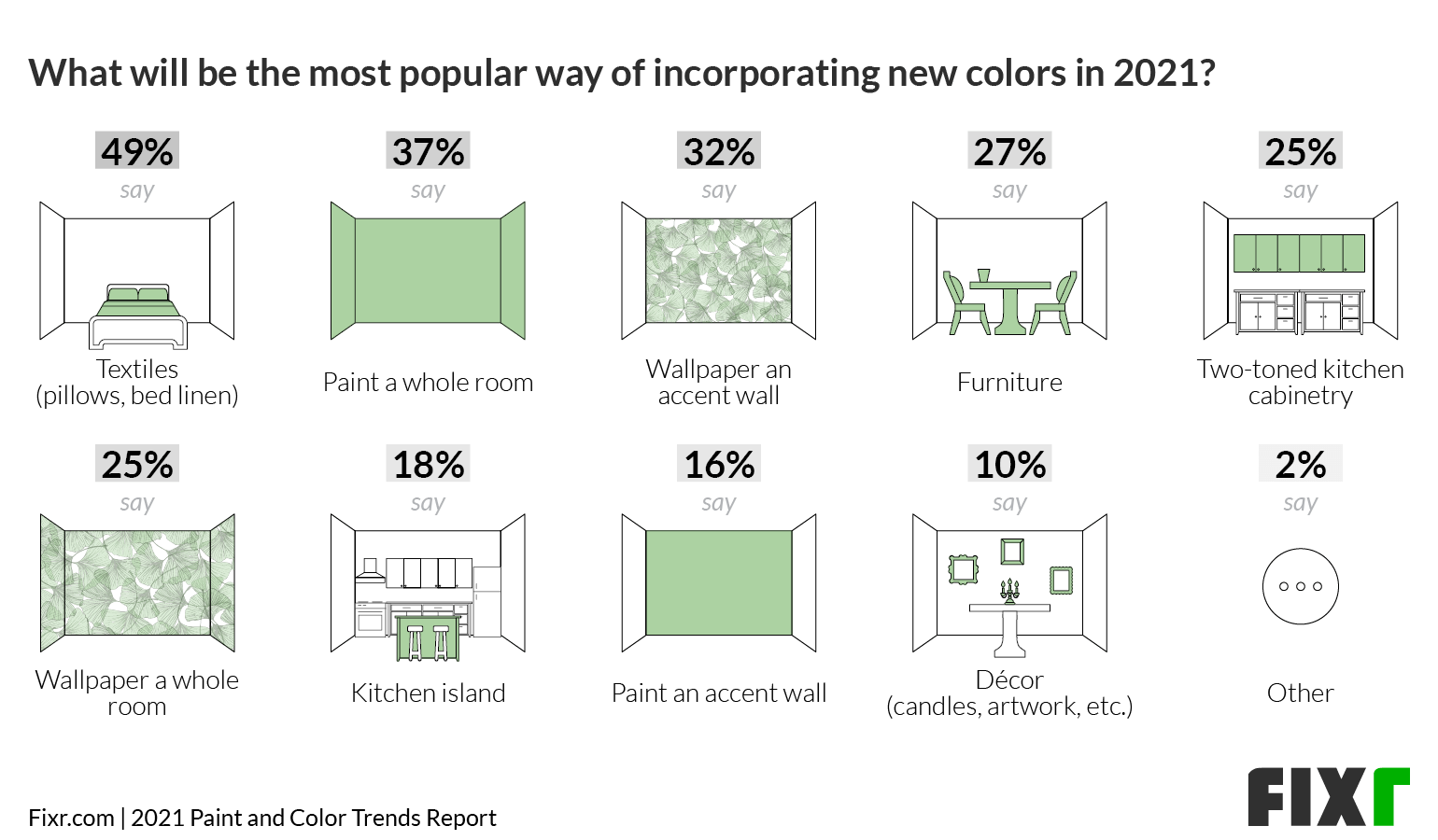 49% of experts feel that textiles will be the most popular way of incorporating new colors in 2021. As already shown, neutrals with pops of color will be the most popular palette for the year. Adding pops of color makes the most sense when doing so on things that you can change out readily for a fresh new look as needed. This in turn means that textiles would be the natural place for a bright color like Aegean Teal to be introduced into a room.
65% Say Textured Walls and Wallpapers Will Lead the Way for Accent Walls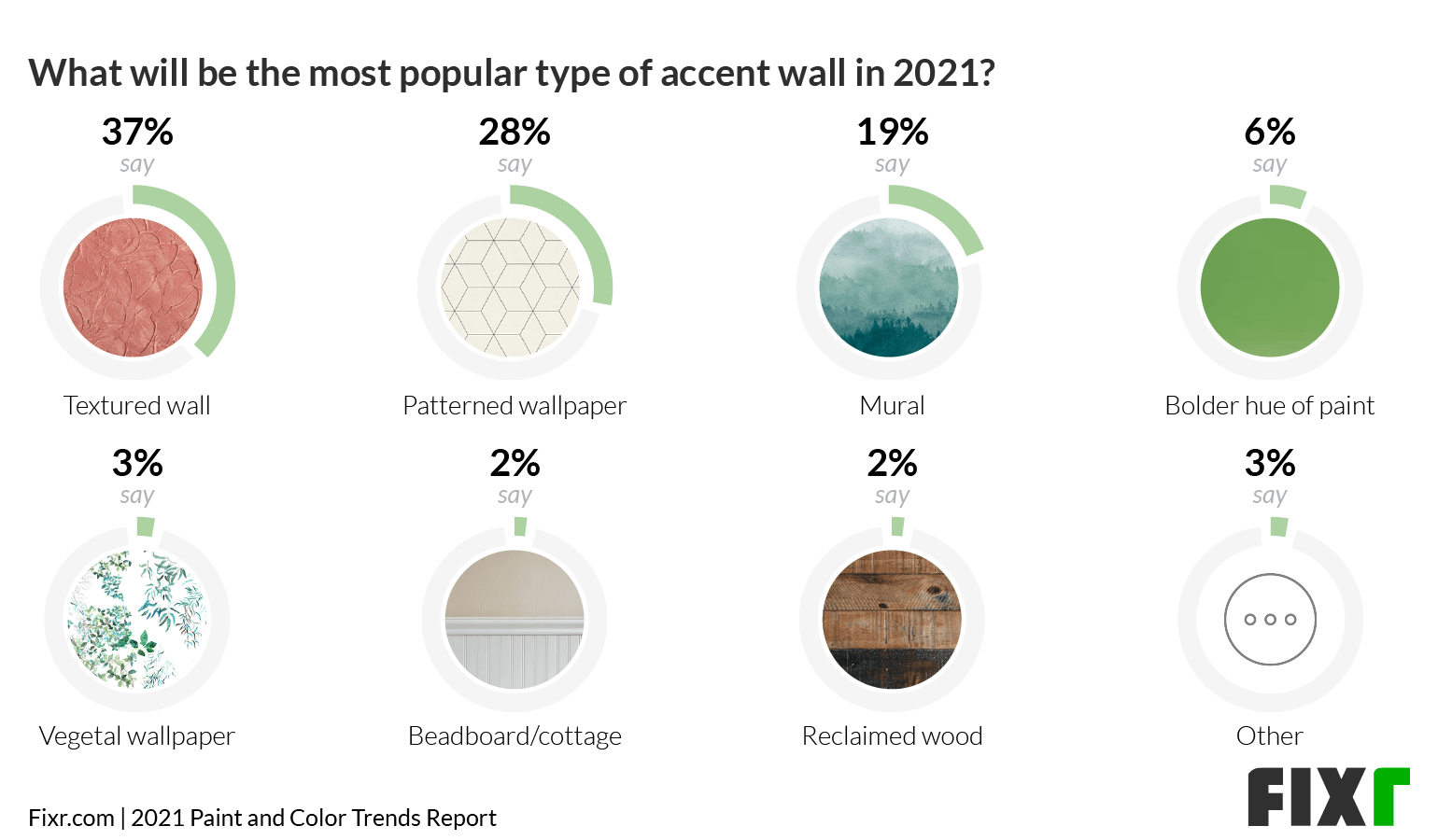 Accent walls are a way to make a statement or to add some depth and interest to a room. There are many ways to create them from incorporating a simple, solid color to adding materials or wallpaper. When asked what they felt would be the most popular way to create an accent wall in 2021, the designers' responseswere mixed. 37% felt that a textured wall would be the way to go, while another 28% felt that patterned wallpaper would be the more popular method. In both cases, the wall itself will likely have more going on than a single color, which would make it a feature of the room when complete.
90% of Designers Agree There is a Surge in the Use of Wallpapers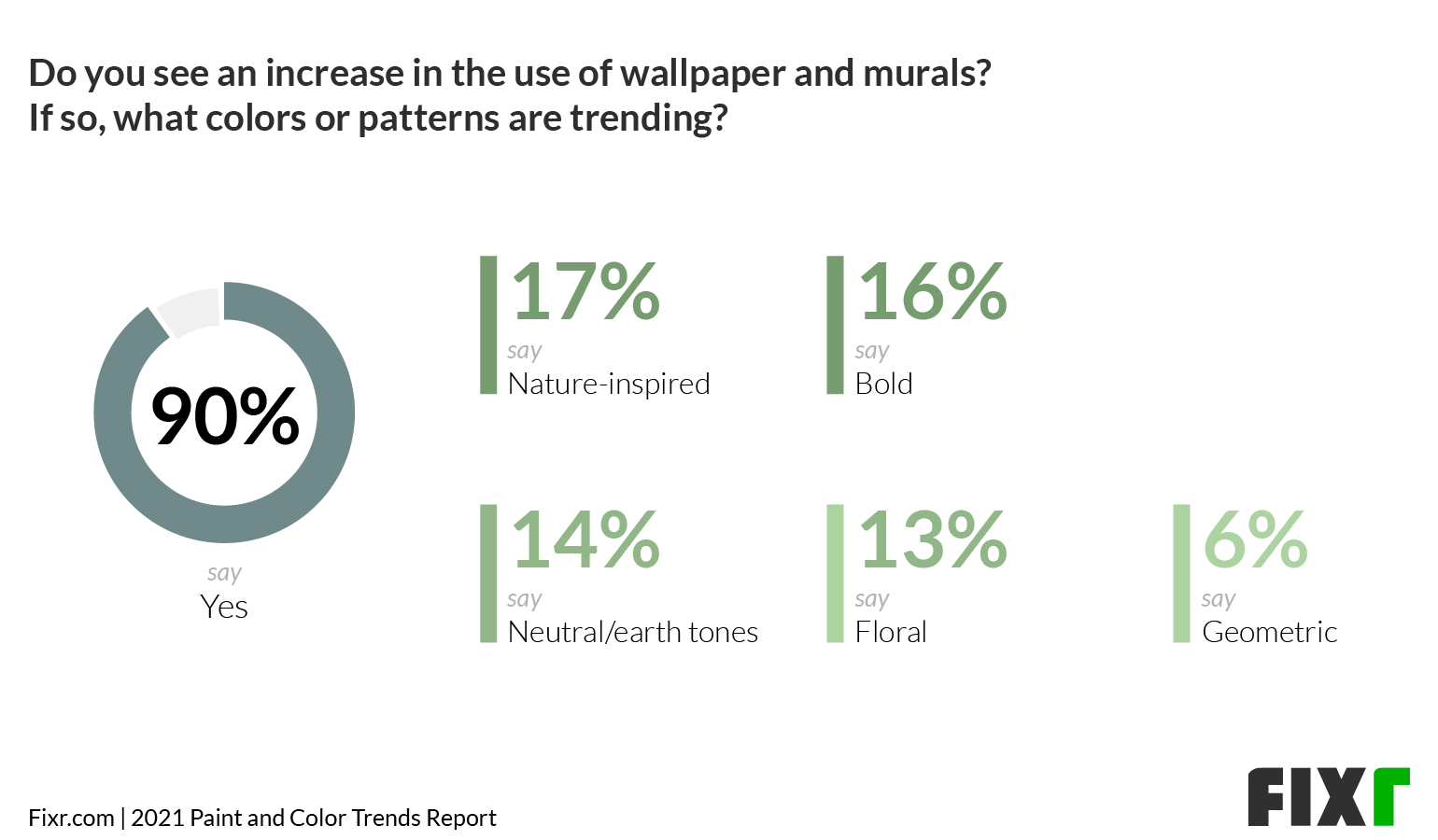 When asked if they were seeing an increased use in wallpaper or other murals, many experts shared that they had seen this already or that they were the ones bringing it to their clients with good results. As Patti Johnson of Patti Johnson Interiors explains, "Wallpaper is always part of the discussion on the first consultation and 100% of my clients are receptive to the idea and ultimately opt for it."
As for the colors and patterns being seen, many agree that bold designs of all types are preferred. Pat Valentine Ziv of PVZ Design LLC explains, "Wall coverings have become bold with color and pattern; my current clients appreciate this along with the subtle textures and often contract grade wall coverings for durability and ease of maintenance."
Whitney Jones of Whitney J Decor adds, "…I'm seeing a gravitation to natural materials, like grasscloth, beginning to become common in mid-level projects, not just the more high-end ones." With people spending so much more time at home, it may be that they're more willing to make some bolder choices than before.
Colors That Sell
While many people will paint their homes in colors that they enjoy, many others like to keep in mind the resale value of their home with any project they undertake. For those who are looking to sell in the coming year, we asked experts to weigh in on what they thought buyers would be looking for.
Whites and Neutrals Create a Blank Canvas in a Seller's Market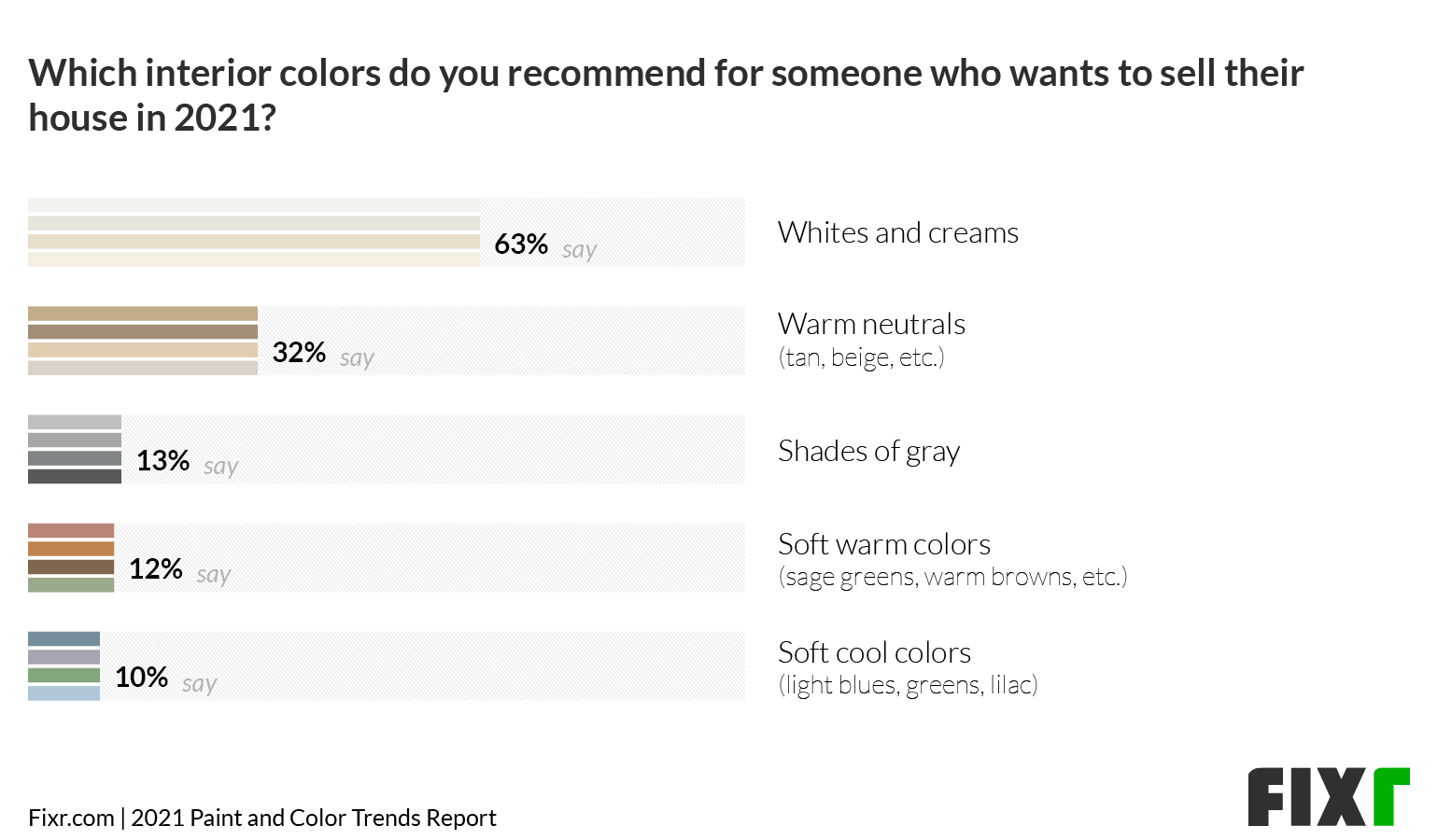 When it comes to interiors, 63% of influencers felt that whites and creams were the shades to pick. A further 32% felt that warm neutrals were a good pick. Given that it is currently a seller's market with a serious shortage of homes for sale, creating a blank slate for buyers by using whites, creams, and warm neutrals could make a home more appealing to a broader group than using a specific or more tailored palette.
White Easily Keeps the Top Spot for Popular Exterior Colors in 2021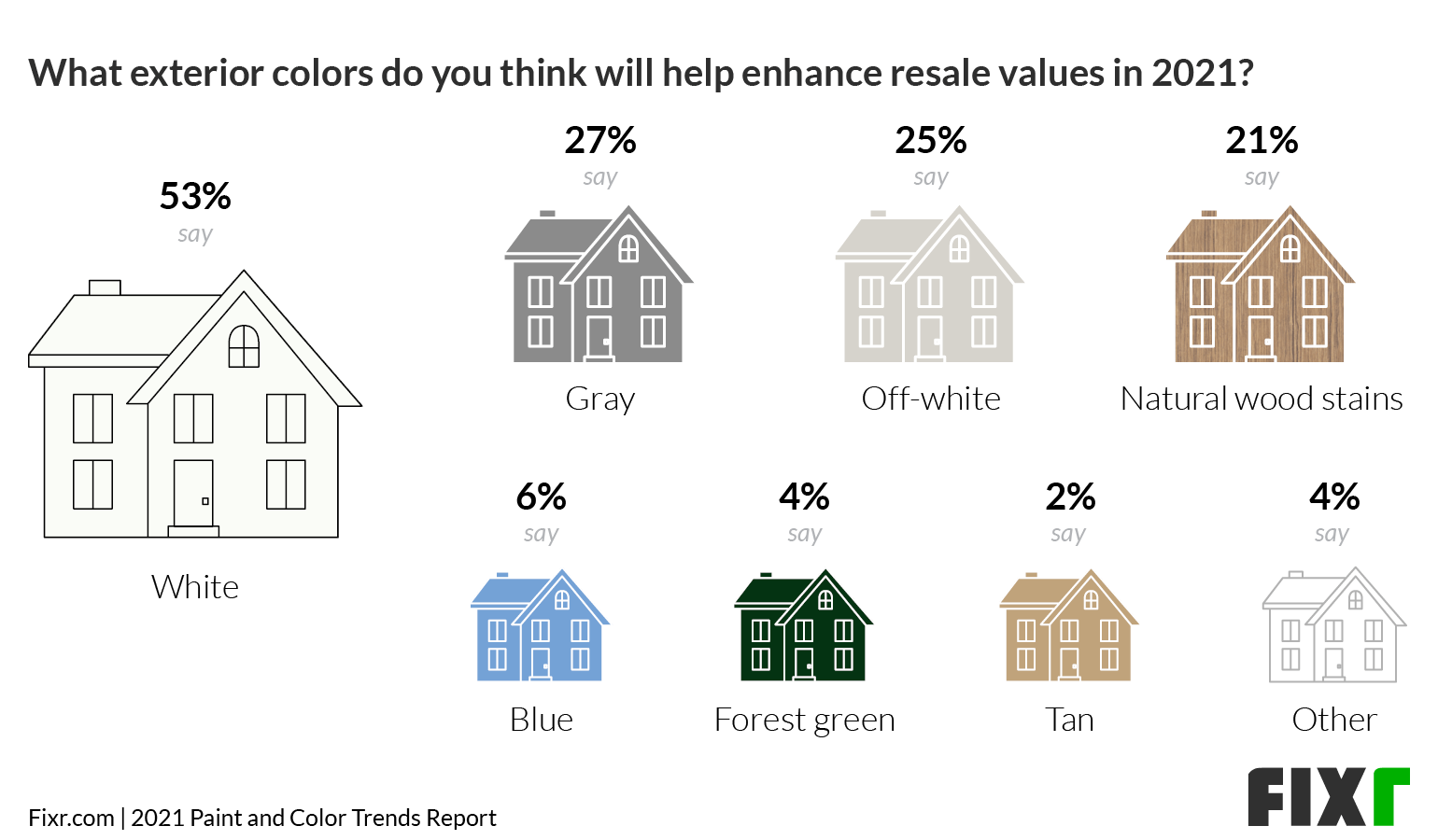 When it comes to the exterior of the home, 53% of experts felt that white is the preferred color. White has actually been one of the most popular shades for exterior color palettes for the last few years. Choosing the exterior color is not always an easy task though, and there are several factors that should be taken into account when making this decision. In addition to color, housing architecture and other preferences in your area play an important role, too.
However, white seems to be a preferred classic and it seems that it's going to stay around for a little while longer on the exterior. This color gives homeowners the opportunity to easily introduce other light or dark accents.
A Color for Each Space
Every home has its own color story. This is the different mix of colors that you'll see throughout a home as you pass from room to room. Given the way people have been changing how they use the rooms in their homes over the last year, it makes sense that their color stories may change as well.
Designers Have Mixed Options About Home Office Color Preferences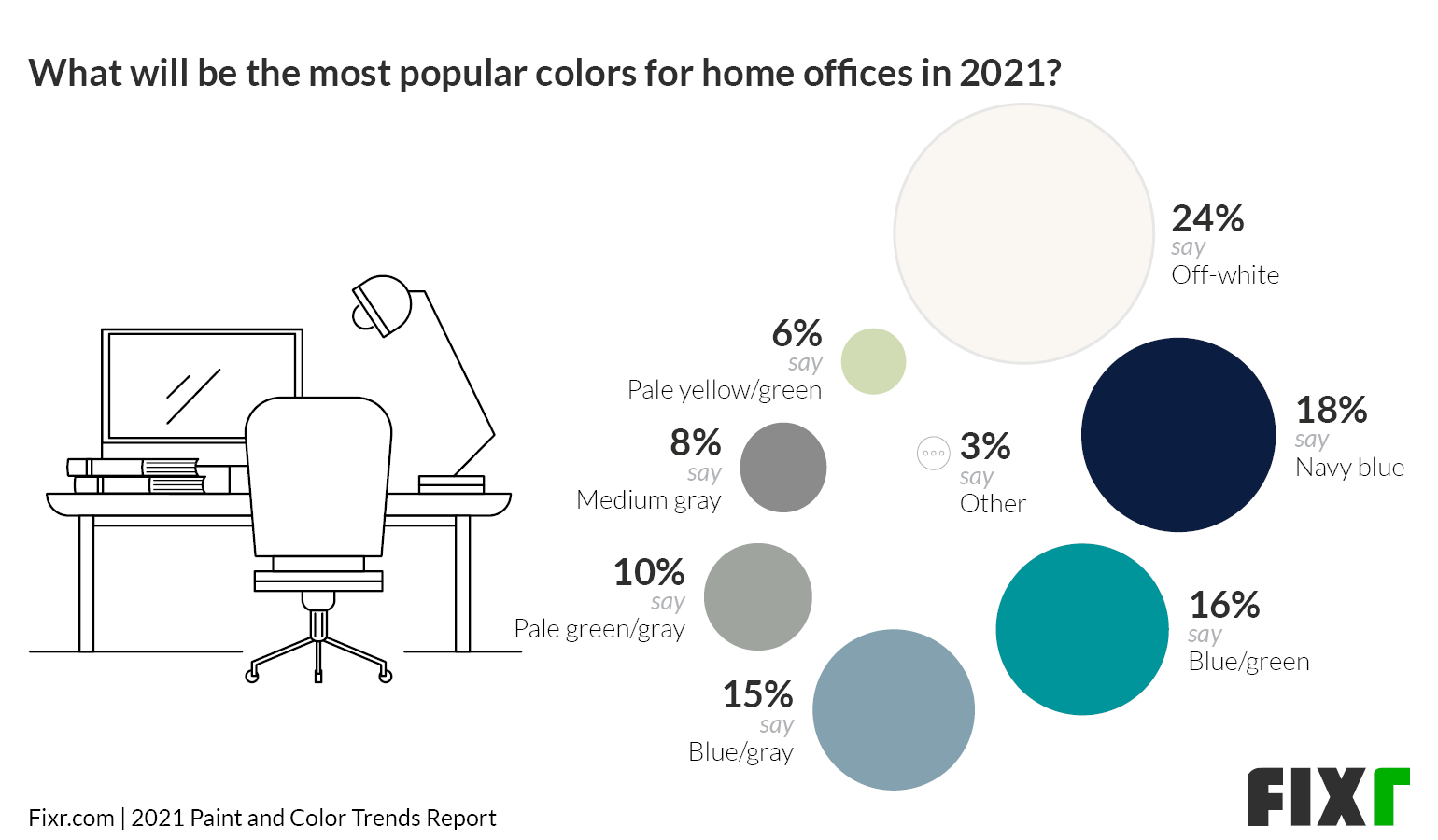 Many people found themselves working from home for the first time this past year, which gave rise to a number of new home offices. When asked what color influencers thought these offices would be painted, answers were mixed. 25% thought that off-white would be the preferred color, while 18% thought that navy blue would be used most often. Another 16% thought that blue/green would have appeal, while 15% thought that it would be blue/gray. These variations could be due to the fact that home offices may need to double as other spaces such as guest rooms or living rooms when not in use as a workspace.
33% of Experts Predict Natural and Earth Tones Will Dominate Kitchens in 2021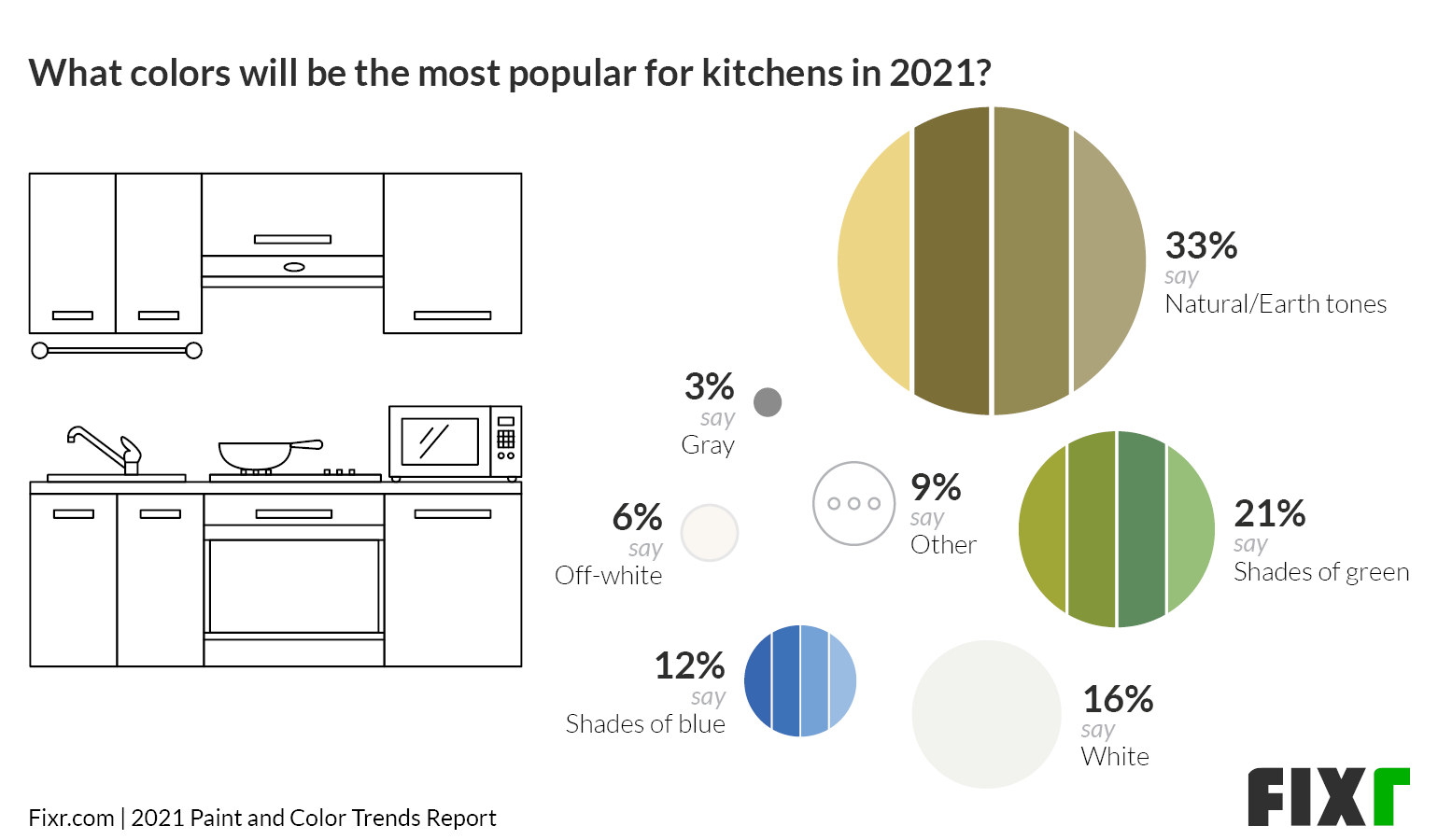 When it comes to the kitchen, natural and earth tones seem to be the most popular choices for 2021, getting 33% of the vote. Shades of green came in second with a surprising 21%, while past popular colors of white, blue, and gray fell much further down the list. Given that natural and earth tones have been seen as popular in general, and that many people are beginning to incorporate natural plants and their colors into the home, it does make sense that these palettes extend to the kitchen as well.
Almost Half of Designers Suggest Blue for Personal Spaces and Soothing Vibes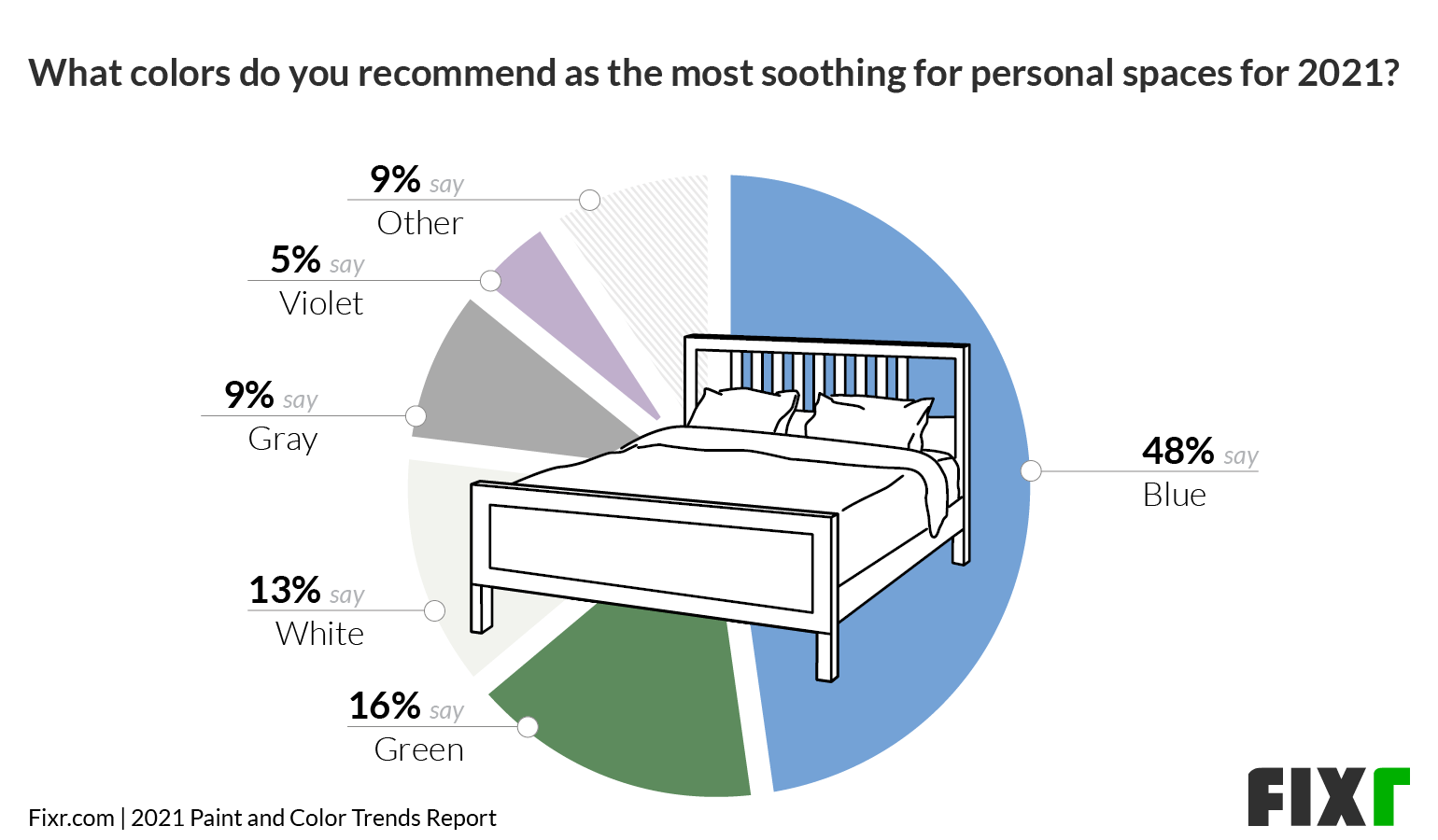 When asked what they recommend for a soothing shade to be used in bedrooms and other personal spaces, 48% of influencers agreed that blue was the color to use. Green came in a very distant second place at 16%. Studies into the color blue have found that it is a calming color, and that it can have a beneficial impact on the viewer in that way. Given that many people may be craving peace and calm in 2021, blue makes an excellent choice for personal spaces.
Changes Approach for 2021
While 2020 saw a lot more people staying at home, 2021 is poised to see more people choosing colors that can help them feel more comfortable in those spaces. From a shift away from grays into warmer, earthier neutrals, to embracing textured and patterned wallpapers, homeowners want their homes to be warmer, soothing, and more comfortable than ever before. Color makes an ideal way of introducing change in a timely manner, so these colors could be the start of some new trends in other areas of the home as well.
Methodology
These results were compiled from a survey undertaken by 68 experts in interior design. Each survey participant was selected for their role in the home design industry based on their work, role in social media, and awards won in the industry.
These experts were given a series of multiple choice and open-ended questions covering a variety of design-related topics. For some multiple choice questions, respondents were able to choose multiple options. The data and visualizations used in this report include all responses received.